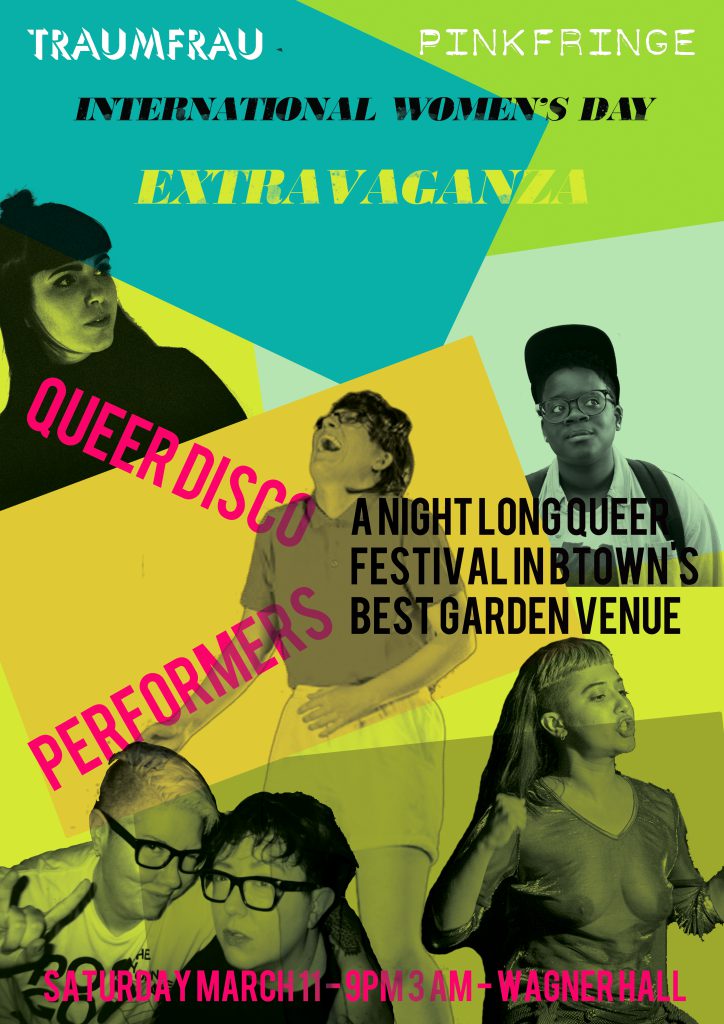 DJs, live art, performers, a garden, a party, a disco, food, fire, outdoor dancing, indoor dancing, garden shows, all at one HUGE QUEER PARTY.
One night you won't forget: traumfrau & pink fringe international women's day extravaganza – a night long festival of riotous awesomeness.
**IN THE GARDEN**
Roaming shows
Food
A fire to sit around
Dancing under the starts
*** INSIDE ***
DJs
Performances
Dancing queers
YES, ALL AT ONE PARTY
This is our lineup:
DJs and selectors:
* Unskinny Bop – behind the decks all the way from East London:
25% :: good pop and r'n'b, 25% :: riot grrrl, punk, indie, 25% :: 50s, 60s, 70s, 80s, 25% :: camp – Measurements are approximate. Dancing is guaranteed.
* DJ Jumeau (Brighton) – Resident DJ at Gal Pals, OUT , and @Purple Sane – Expect queer pop party tracks and deep cuts that make you wanna move.
Artistes, perfomers, professional weirdos:
* CherryBomB – Katy Jalili channels the spirit of punk and pops their cherry on stage for all to see.
* Alicia Jane Turner – Take Another Little Piece of My Heart, intimacy, live sound, and ambient noise to create unique audio recordings with each individual
* Shorty – nobody has arranged childcare, so Shorty will be wandering around past bedtime. We might even let Shorty be grown-up and join in, if there are no tantrums…
* Mzz Kimberley – performer, singer, actress, trans activist… on stage!
Advance tickets HERE