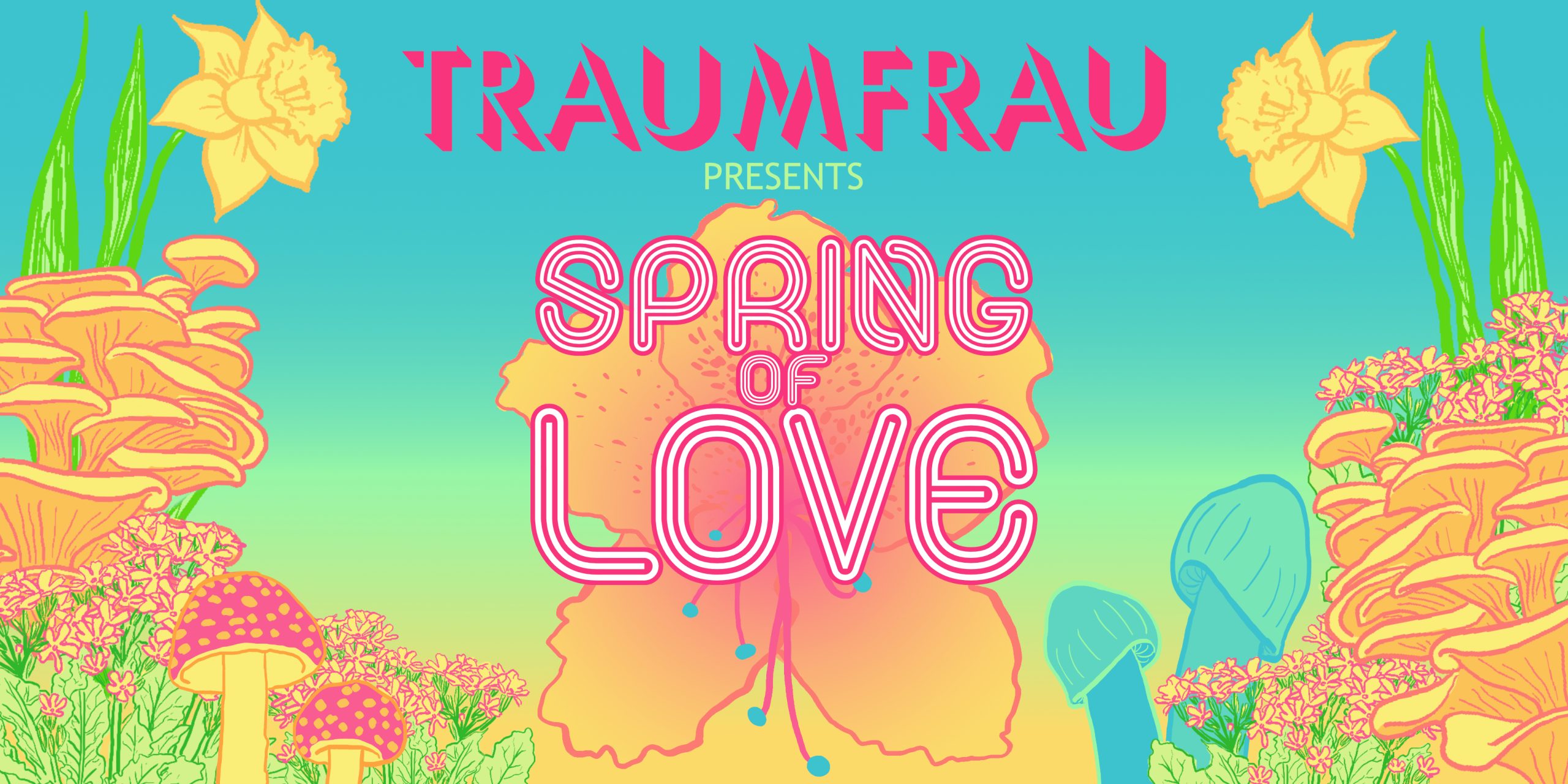 After a very sold out NYE – in February! – event, Traumfrau returns to Ironworks, for another chance to dance with your favourite crowd!
This April we are celebrating all things Spring of Love! Shed your winter coats, dust the cobwebs, mend your broken hearts, smell the flowers and the pheromones, and join us to celebrate the season of love and dopamine on the dancefloor.
We are not talking romantic love and cutsie hearts, this is a collective ritual, a dancefloor exorcism, a celebration of community, joy, and filth.
Dress code: Dare to share! Dopamine junkies! Sun's Out, everything's out! Less is More! Flowers, bunnies, blossom, mushrooms… nature is ho*ny!
DJS:
★ Tabs ★ Butch, Please (London) – a musical journey celebrating all degrees of butch…
★ Sista Selecta ★ I am fya and YesMel/ electronic and experimental music from the African diaspora and the global queer community. Mixing in jungle, Afro/tech, dancehall, tropical beats, hip hop and avant-pop.
★Wildblood and Queenie ★ a 30 years life and disco partnership, these two disco benders are true connoisseurs of all things cowbell-infused. Expect to travel between decent disco and proper house.
★ And the other stuff! ★
★ Get your art-on and your hands dirty, with Queer Crafts Club! ★
If you like making with your hands and making with others Queer Crafts Club has got you covered! Make and craft some Spring of Love art with QCC. Paint and brushes provided, BYO creative genius!
Live acts, live art, copious amounts of fun, excessive amounts of queerness, and Brighton's most heterogeneous – but not hetero – crowd!
Tickets will go fast.
Accessibility:
Ironworks Studios is a multipurpose space across two areas with wheelchair entry. The studio is flat and the flooring is a mixture between polished concreate and laminate wood.
Wheelchair accessible toilets are available at the Studio.
A Wheelchair viewing position is included in the venue's seating plans. This particular event is not seated.
The Studio and theatre space is assistance dog friendly.
Covid safety:
We know lateral flow tests are no longer free or easy to come by. Therefore we can't ask that everyone test before the event. Do do ask however that, unlike our government, you act responsibly. If you are feeling poorly, please don't come.
Special Effects & Lighting
Smoke machines, strobe lights, and other special effects may be in use at the studio. Please contact us for more information if you may be affected by this.
Travel
Ironworks Studio is located in the City of Brighton and Hove and is accessible by car, bus and train.
Brighton and Hove Buses have wheelchair friendly buses, please, contact Brighton and Hove Buses direct for their timetable at https://www.buses.co.uk
If you are arriving by car, please, refer to Brighton and Hove City Council's website for parking throughout the City of Brighton https://www.brighton-hove.gov.uk/content/parking-and-travel/parking this will give you information regarding the nearest car park and the nearest blue badge spaces to all Pride events.
Ironworks Studio is a 10-minute walk from Brighton train station, however, this does involve a few hills
Access Team Contact details:
Email: info@ironworks-studios.co.uk