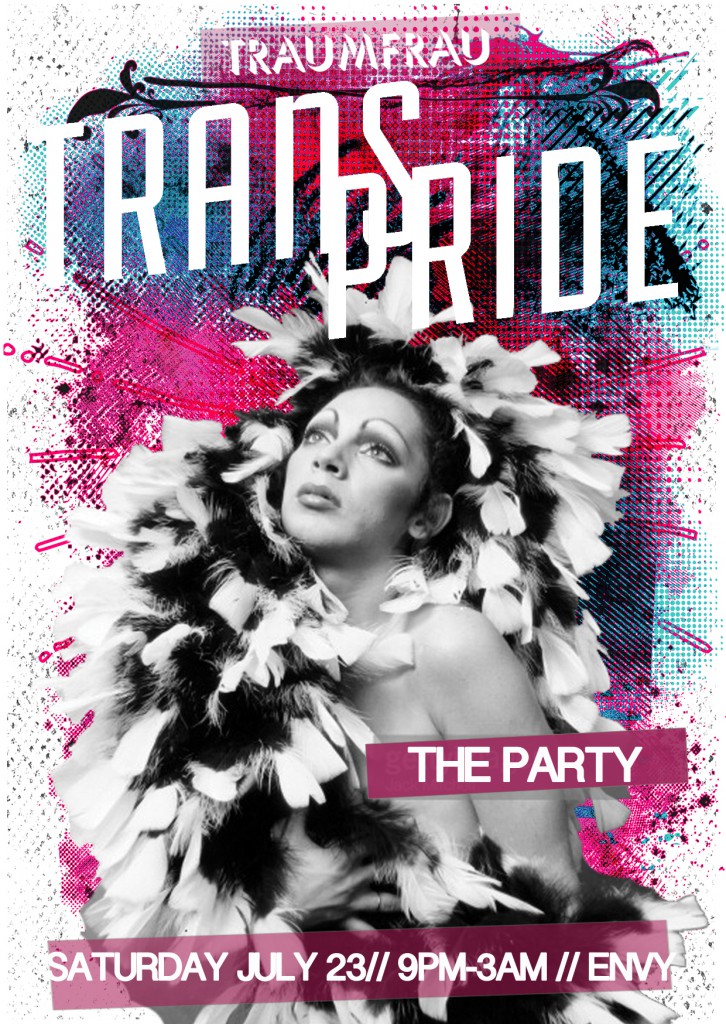 Trans Pride 2016: THE PARTY!
Traumfrau is honoured to be hosting the official party for the Trans Pride 2016 weekender.
Expect a night of music, DJs, and performance! Always putting the T first.
Special Guests:
** DJ S/HE (Tomboys Don't Cry) (Milan) – Transgender dj/musician from Milan, founder of queer weekly event Gender Sux!, guest DJ all around (Club Lesley, T Club, Wotever & Lemon Juice), part of the queer collective Tomboys Don't Cry. S/HE plays electronic music and enjoys some queer-hop and synth wave.
On stage:

** Emma Frankland: Pouring fuel oil onto the Blue Peter garden of gender, this performance investigates why sometimes it's necessary to smash things up.
Full lineup TBA soon!
Tickets: £7/5/0
We reccommend getting them in advance:
http://www.brownpapertickets.com/event/2565301
** The venue is wheelchair accessible – carers and chaperones can book a free ticket online
** We will do our very best to bried door security and all staff about pronous and ID checks. If coming into the venue with an ID is a cause of anxiety, please get in touch with us and we will help.