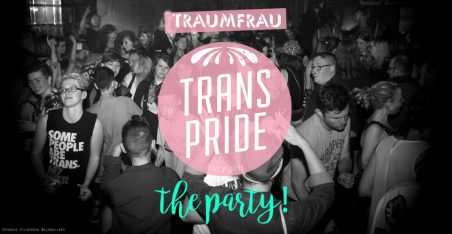 It's the official party for the Trans Pride 2017 weekender. Expect a night of music, DJs, art, crafts and performance! Putting the T first.
Behind the decks:
** DJ S/HE (Tomboys Don't Cry) – Transgender DJ from Milan, where he runs Gender Sux! a weekly queer event, S/HE has played for various LGBTQIA+ parties in London (Club Lesley, T Club, Wotever and Lemon Juice).
**** DJ Pretty Boy – Birhgton's cutest and newest DJ on the scene, self proclaimed basic queer, and all round dreamboat – playing some hearbreakers and queer classics
** Amanda Robotnick – Brighton's own visionary DJ creator of Kitty Glitter and Kollaps – Amanda Robotnick serves you a hot set of Electronic Sex-Disco & Sass.
In the room:
** Krishna Istha and Jacob V Joyce // collaborative durational performance // Will you dare to join in? Performance and identity politics – deconstructing gender and colonialism.
** Roaming entertainment from Victoria the Translady Magician. Born with magic powers. Raised by witches. Now eats three sensible meals a day and uses her magic powers for good not evil (most of the time)
** The Museum of Transology: how do you make your own history? What makes you and represents you? A mini participatory exhibition about you!
Tickets: last year the party sold out leaving not a few disapponted people out. Please make sure you get your ticket in advance here:


Brown Paper Tickets Ticket Widget Loading...

Click Here to visit the Brown Paper Tickets event page.