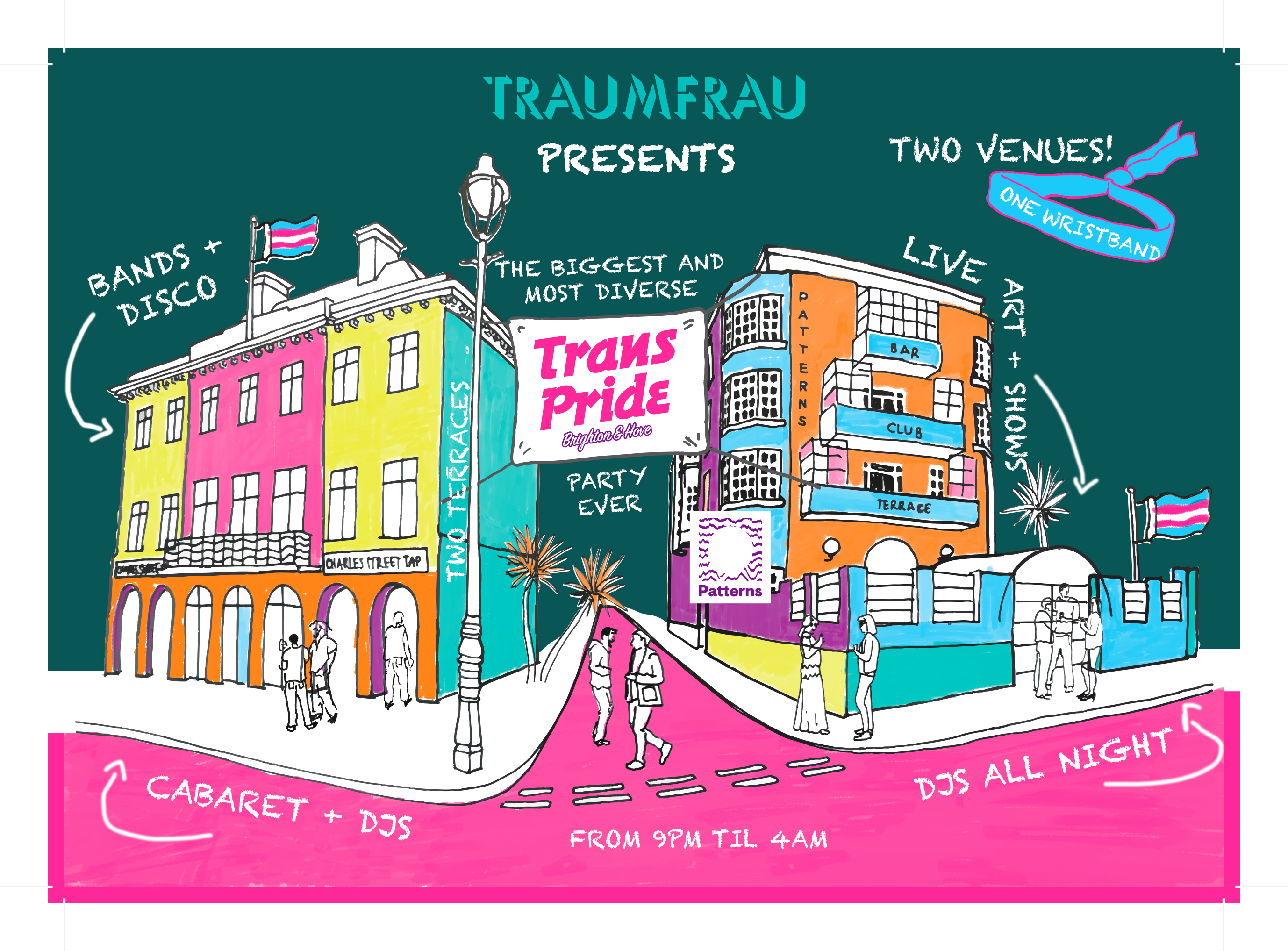 Traumfrau is joining forces with Trans Pride Brighton to bring you the biggest, fiercest, and most diverse celebration yet!
This year with one ticket you can access three venues, and three different events! We have put together the yearly DIY gig, with live bands, and alternative DJs, the afterparty with DJs and dancing, and a whole programme of performance and live art! All across tow buildings. So you can float and be curious and check it all out!
The buildings are next door to each other, you will be given a wristband and will be able to move between venues, catch some live art, dance your heart out at Patterns, listen to some live music, or chill with new friends in one of the terraces!
♡♡ ♡ ♡ At Patterns and Charles Street Tap // Arty Afterparty and Performances // From 9pm til 4am♡♡ ♡ ♡
BEHIND THE DECKS
♡ S/HE (Transmissions, Inferno, Shutdown, Cramps, T Club, Wotever among the others): part of the queer collective Tomboys Don't Cry S/HE can't wait to bring his special high-energy set with an explosive mix of electro, deep-house, queer hip-hop, jersey, voguing, tech-house. Transgender DJ based in London S/HE has shared the desks with queer idols like Electric Indigo and Light Asylum
♡ DJ El Tuma (MARICUMBIA): El Tuma presents a multi-genre mix of tropical and electronic beats, bringing a fusion of perreo, majestically camp EDM and urban superhits. In 2016 he co-founded MARICUMBIA, a Latinx dance party centering queer and trans people of colour. He has performed extensively within the LGBT+ and Latin party scenes including for Boiler Room, BFI Flare, Bar Wotever, Clashbash, Fringe! Queer Film Fest, CACAO, opening for Las Cafeteras, Resis'Dance, Butch Please, CASA Festival, & more.
♡ DJ Lizzo: DJ Lizzo returns to the decks after her residency on The Lounge at K2K Radio and the Trans Fundraiser Beyond. Join her as she explores lush jams from Classic House to Tech House.
PERFORMANCES BY
♡Noè: pole dancer gone astray, Noè's work features dildos and surviving capitalism… Expect chair dance, kitsch and existential questions.
♡Lucille Power: Lucille Power works collaboratively with different groups of people and performers to make work that interrogates hierarchies, power, and value systems. They are a camp, queer artist who uses adult 'play' as a way to explode normative notions of sexual and gender identity.
♡Emma Frankland
♡Cramps: Cramps is an international vocalist, producer, and performance artist, creating work across genres and venue categories. They are currently combining their classical training as an opera singer with avant-pop music production, which will see it's independent release in 2020.
♡♡ ♡ ♡ At Envy // DIY GIG + Alternative Party // from 7:30pm til 3am♡ ♡ ♡ ♡
LIVE MUSIC BY
♡ The E. D. Fowler Band – Queer fronted alt-pop/rock trio. An amazing band with an important message
♡ The JARs political & personal rock songs from Lewes
♡ Byenary – Ferocious and emotional queercore noise from Brighton, featuring Chuck SJ and taking up space
BEHIND THE DECKS
♡DJ Katie Conkie: Trans Entertainer DJing the best Rock/ Metal Anthems out there… Katie is also planning on debuting her next single "Beautiful (Trans Anthem)" at this special event.
♡DJ Clara Barker: playing indie and alternative music in and around Manchester, Clara will be playing the music from the late 90's and early 2000's (The Pixies, Hole, Sleater-Kinney, Nine Inch Nails and Faith No More…)
TICKETS:
♡Part of the proceedings of the night will go directly to Trans Pride.
♡Please note that we operate a PAY IT FORWARD scheme for this event, we recognise the healing power of community and want as many people to be able to access it. If you are able to contribute to someone's free ticket, please select the Pay It Forward option when purchasing your ticket.
If you wish to come to the event and need a free ticket please get in touch at info@traumfrau.co.uk
♡Get your tickets here: https://link.dice.fm/gk1xlzjWsX
Presented by TRAUMFRAU.
This is an 18+ event (Photo ID required, all staff is Trans awareness trained and IDs will be checked with discretion).
ACCESSIBILITY INFO:
We are working to provide extensive accessibility info documents for this event, so please bear with us while these are being produced.
We will update the event with a full accessibility document once this is ready.
Envy and Charles Street Tap are both fully wheelchair accessible, with accessible toilets.
Patterns ground floor and terrace are fully accessible with accessible toilet.
All toilets will be gender neutral.
On the night, the venue will be closed to the public, and only in use for Trans Pride attendees and ticket holders, to help ensure it is a safer space for attendees.
If you have any enquries about accessibility, please get in touch at info@traumfrau.co.uk