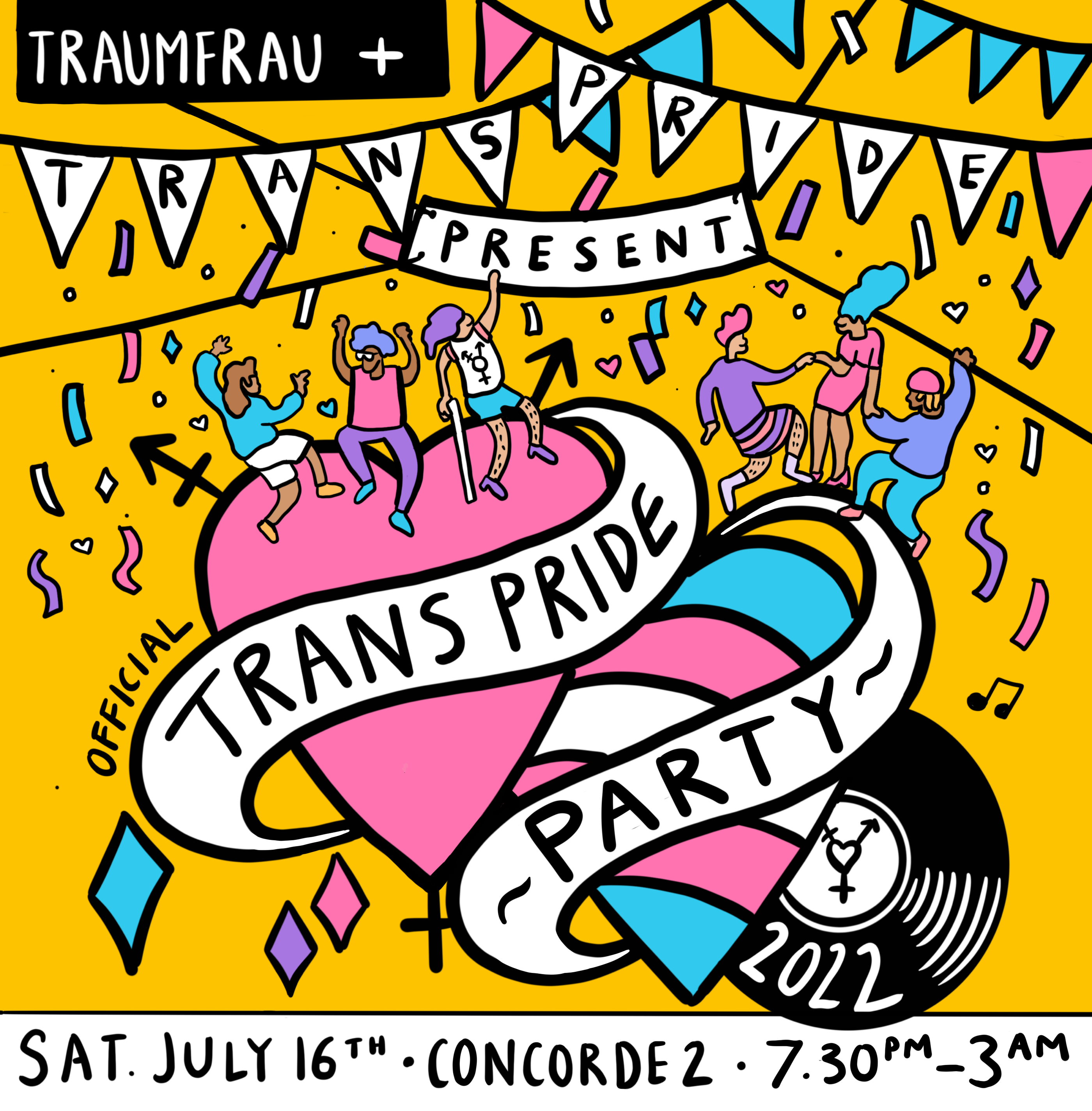 Traumfrau and Trans Pride Brighton are excited to bring you a whole night of fierce and joyful celebration.
Come early for food and tunes on the terrace. And stay late into the early hours for DJs, live art, performance and installations!
From 7:30pm – food and lounge on the terrace, come straight form the park, have dinner with your friends and enjoy a sunset by the sea.
From 09:00 – 03:00am – more DJs, shows, art, and dancing than you can possibly imagine in your wildest dreams!
We have a STELLAR lineup of DJs, performers, artists, makers and visionaries!
♡♡ BEHIND THE DECKS
♡DJXZAN
♡SPINKS
♡EL TUMA
♡♡ ON STAGE
♡SUBIRAY JOY
♡TRAVIS ALABANZA
♡EMMA FRANKLAND
♡VA BENE AKA CRAZINIST ARIST
♡♡ INTERACTIVE ART INSTALLATION
♡SOOFIYA
♡♡ DIGITAL INSTALLATION
DANIELLE BRAITHWAITE-SHIRLEY
♡♡ TICKETS:
♡Part of the proceedings of the night will go directly to Trans Pride.
♡Please note that we operate a PAY IT FORWARD scheme for this event. If you are able to contribute to someone's free ticket, please select the Pay It Forward option when purchasing your ticket. We recognise the healing power of community and want as many people to be able to access it. If you wish to come to the event and need a free ticket please get in touch atMinfo@traumfrau.co.uk – free tickets are allocated with no questions asked.
Concession £8
First Release £12
Second release £15
Carer £0
Digital: £3
COVID SAFETY:
We ask that even if you are vaccinated, you consider taking a test before coming to this event. We are aware these are no longer free and are working to have some on the door.
To allow for outdoor socializing, the venue has a large terrace area for drinking, eating, and chilling out, which will be open from 7:30pm and all night.
We will be streaming the event for those who can only join us from home.
ACCESSIBILITY INFO:
Concorde2 has step free access throughout the venue, including access to the box office, bar, main room and accessible toilet.
We provide a complimentary ticket for carers.
The venue has soft seating in the bar, and in the two back rooms. No soft seating is avaibale in the main room which serves as a dancefloor.
We will have a quieter room, where music will be keot at low volume to allowe rest and conversation.
No strobe light is used at this event.
There will be priority a priority serving area at the bar for ease of access.
A full venue accessibility document will be available ahead of the event.
All performances will be BSL interpreted.
If you have any enquiries about accessibility, please get in touch at info@traumfrau.co.uk
This is an 18+ event (where needed IDs will be checked with discretion).