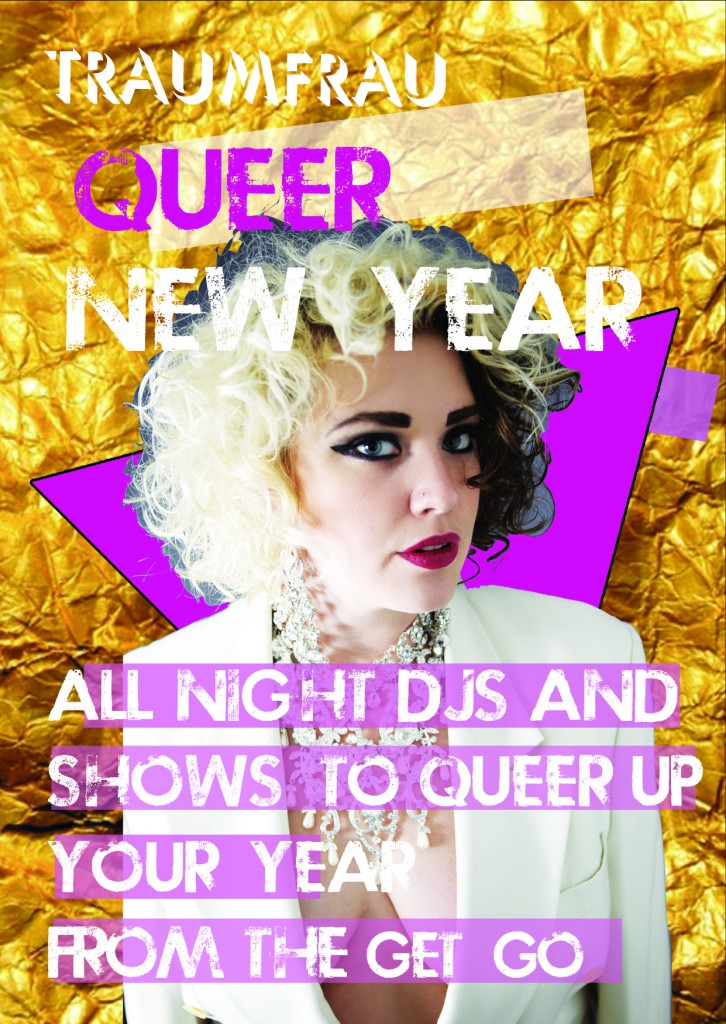 DJs and a smashing lineup of live acts, in the beautiful Rialto Theatre, so you can dance yourself into 2017 with your favourite crowd. An all nighter (well, til 5am) of queerliciousness to start your New Year the way you want it to continue.
Cause let's face it, 2016 has sucked so much arse – and not in a good way. We are ready to part.
DJs:
* DJ NAAM – Resident DJ at the infamous and AMAZING Club Silencio – The wrong records in the right order. Who says you can't drive from Whitney to Blur without a car crash?! 80s & 90s favourites
* DJ Jumeau – Resident DJ at Gal Pals, OUT, and Purple Sane- Expect queer pop party tracks and deep cuts that make you wanna move.
* Claw your way into 2017 with CATTI MYTH our #NOCHEESE DJ playing; Bjork, Hole, David Bowie, Peaches, The Cure, Fleetwood Mac, Sia, YYYs, Kate Bush, Patti Smith and more.
(AND WE HAVE QUITE A LINEUP OF) SHOWS!!:
* RUBYYY'S BIG POP!
Starring: Rubyyy Jones Featuring: Prince Lydia
A provocative and sex positive piece, in which the audience member(s) become the client and buy the ultimate fantasy, the raw and riotous, Rubyyy's signature Bukkake Balloon Pop. With the chance to select many personal preferences, from temperament to music, wardrobe to balloon filling… Clients are guaranteed a professional, exhilarating and revealing romp, customised for the Rubyyy Experience of your wildest dreams.
* Scarlett Lassoff – excellent in P.E. and keeping fit and cooking and all things a good woman should excel in, Scarlett will probably do something on stage which will be specifically aimed at angering the patriarchy or the Tories we expect.
* Sam Reynolds – international award-winning live artist and cabaret performer, might striptease to prove a point about sexuality, queerness, and identity. Might not. Either way, he will be incredible.
Tickets:
Capacity to this event is limited – so we reccomend getting your ticket early in advance:
www.brownpapertickets.com/event/2718428
* If you do not have an ID, are worried about being asked for ID, or are not acomfortbale with your current form of ID, please get in touch and we will make sure we help with this.
* Accessibility: unfortunately the venue is not wheelchair accessible, there are three steps to get to the ground level – where the bar and one performance room are – and a flight of stairs to reach the first floor – where the dancefloor is. We are incredibly sorry to not have been able to find an accessible venue for this occasion – and can ensure that our 2017 venues are all wheelchair accessible.
* For any other accessibility issues, to have info about ligths and sounds, and show content, or for any other enquiry, please feel free to get in touch via our facebook page.