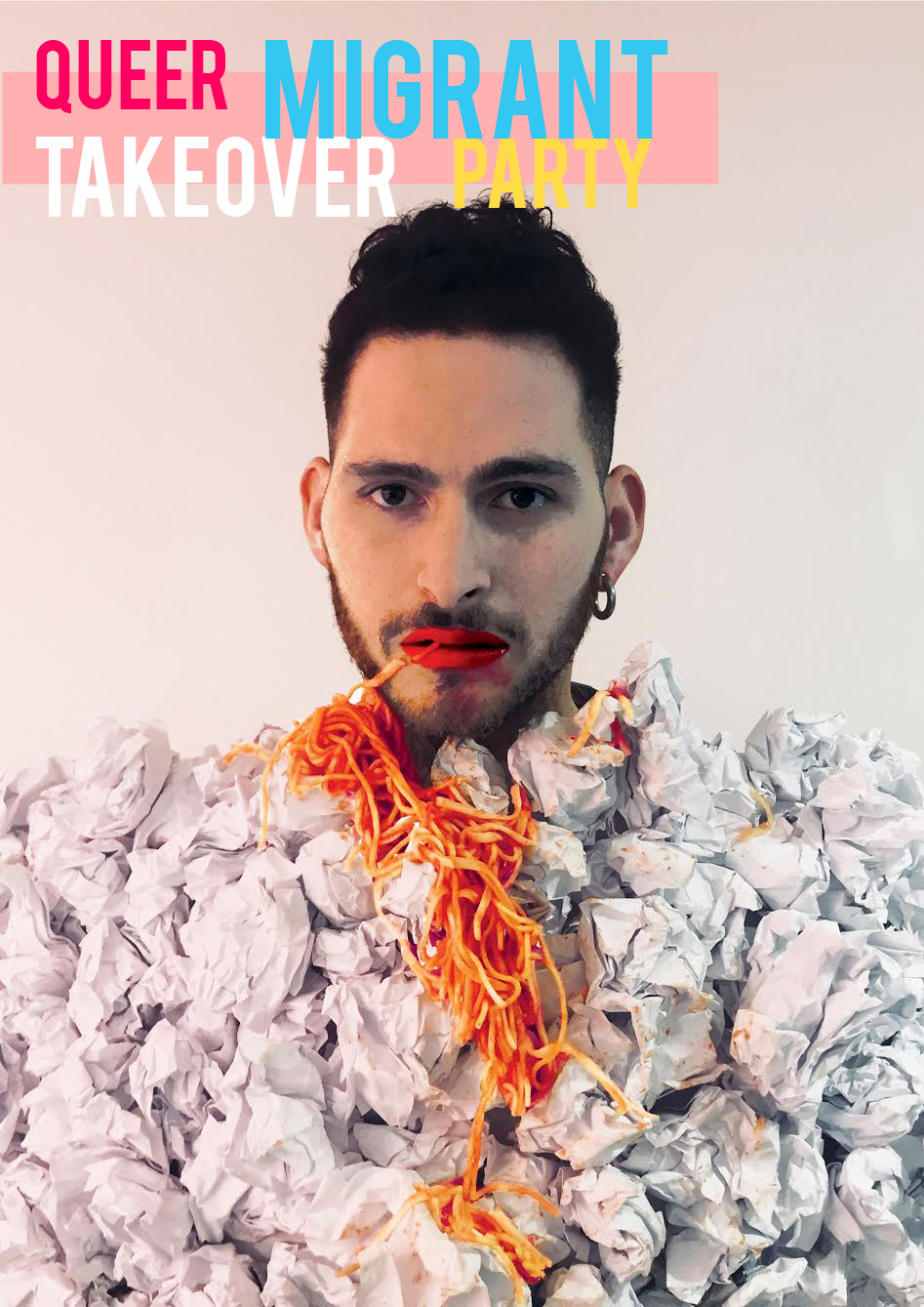 THE QUEER MIGRANT TAKEOVER PARTY
Borders are closing and our migrants are being villified across the UK, both systemically and on our streets. We think it's time we rebalance the power and give our migrant friends a platform: let's throw a party and celebrate everything migrants bring to the UK!
Join us at the Marlborough Theatre for a free party, a night of DJ sets, shows, and installations, by local migrant artists, as a celebration of multi-culturalism, national identity and above all, our migrant communities.
♥ Behind the decks ♥
✮ Mima Chovancova – Slovak 80s synth music! Sounds fun, right!?
✮ Pushy C – Dropping the best of Old Skool RnB, Garage with a twist of Bhangra, Bollywood, Reggaeton & Latino beats. We can't wait!
✮ DJ Queen Deena – Iranian prince brings you a wild set from the middle east. Oh yes, you will be dancing.
♥ On Stage ♥
✮ Filip Canha – migrant artist living in Brighton, Filip presents a durational piece "BEAT"
✮ Subira Wahogo – African, Jew(ish), queer non-binary spoken word poet and activist, mostly writing about things that make them angry.
✮ Miss Liliane – a drag queen channeling the spirit of Europa Martyred!
♥ Art and Instllation by ♥
✮ Violetta Marchenkova – from the Jewish Russian diaspora in Latvia, Violetta has relocated to the UK in 2013. SPYING (2017), is an experimental documentary film in the tradition of travel essays. It offers a personal view of New York through the eyes and the camera of a Russian spy who struggles to speak in her native language.
✮ Mima Chovancova – Postcards from Betweenity- is a series of very honest visual diary entries and coloured confessions of the anxieties, fears, and strong feelings of otherness and exploration of authenticity of a young Slovak artist living and practising in EnglandIf you're a migrant, come and enjoy the marvels of dancing to songs you understand the lyrics to, share your experiences of micro aggression, and rant about the impossible bureaucracy of moving. If you are a Brit, come and support your queer migrant friends. Together we dance! THIS EVENT IS ENTIRELY FREE AND STARTS AT 9PM!
PLEASE NOTE THE EVENING WILL KICK OFF AT 7:30pm with POST – a beautiful performance by Xavier de Sousa, in which you are invited to join Xav at the dinner table, eat delicious Portuguese food, drink potent Cachaça, get merry, make new friends and challenge what exactly makes a 'national identity'. You will need to purchase tickets for the show HERE: http://www.marlboroughtheatre.org.uk/event/post/