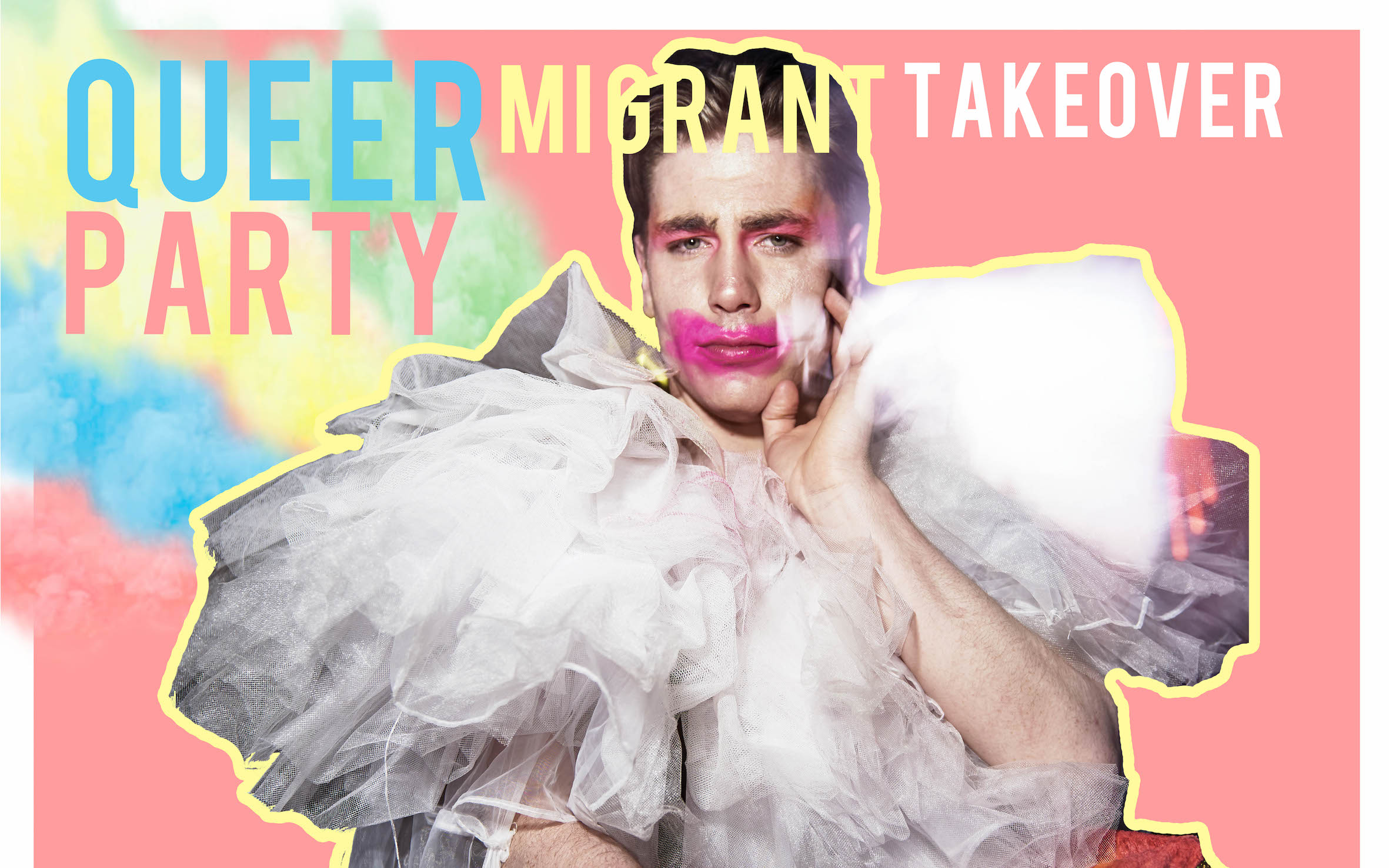 THE QUEER MIGRANT TAKEOVER PARTY
Borders are closing and our migrants are being vilified across the UK, systemically and on our streets. We think it's time we rebalance the power and throw a party to celebrate everything migrants bring to the UK! It's a lot, it's so damn much.
Join us at Rialto for a night of DJ sets, shows, and installations, by local migrant artists, as a celebration of multi-culturalism, identities, and above all, our migrant communities.
★Behind the decks ★
♥ Pxssy Palace:
kick ass collective who works towards eradicating sexual violence and misogyny from club culture and wider society – whilst centring and celebrating womxn and femmes of colour.
Listen in to their monthly show where they real talk with each other and their dynamic guests partying and check out their banging tunes!
♥ Kashfi:
Pre-revolutionary Iranian pop, 60's and 70's Turkish funk, psych and disco, Palestinian, Tunisian, Libyan, Algerian, Syrian, Yemenite and Israeli pop
Expect nothing less than ineffable Middle Eastern rare groove throwbacks from half Iranian multi-instrumentalist musician, soundnerd, producer and DJ Kashfi
★ On Stage★
♥ Xnthony // comedy award winning performance maker fusing popular and queer culture with his own unique outlook! Ireland's 2017 LGBT+ Entertainer of the Year, XNTHONY has created several award-winning shows including DOUZE, The Power of Wow, and is co-creator of London's only Irish Queer Celebration Sodom & Begorrah.
♥ Katy Jalili (Katayoun Jalilipour) // genderqueer Iranian born multidisciplinary artist, performer and writer. Their work mainly focuses on queer ancestry for people of diaspora. Some have described Katy's performances as provocative, terrifying, erotic, political and wickedly entertaining, whilst channelling the spirit of punk.
Kay present the Evil Eye/I : an exploration and a yearning to reconnect with lost culture and heritage due to migration. The small pleasure in reenacting acts as simple as burning Iranian Incense and using such rituals as a way of cleansing the oppression and trauma restored in our bodies and freeing one's self from both racism and homophobia.
♥ Méfi // Brighton based queer POC writer and hella talented jewellery art maker Clit-A-Dit presents a manifesto mash-up on what it means to be a foreigner.
♥ ♥ Please note that we operate a PAY IT FORWARD scheme for this event, we recognise the healing power of community and want as many people to be able to access it. If you are able to contribute to someone's free ticket, please select the Pay It Forward option when purchasing your ticket.
If you wish to come to the event and need a free ticket please get in touch at info@traumfrau.co.uk
♥♥