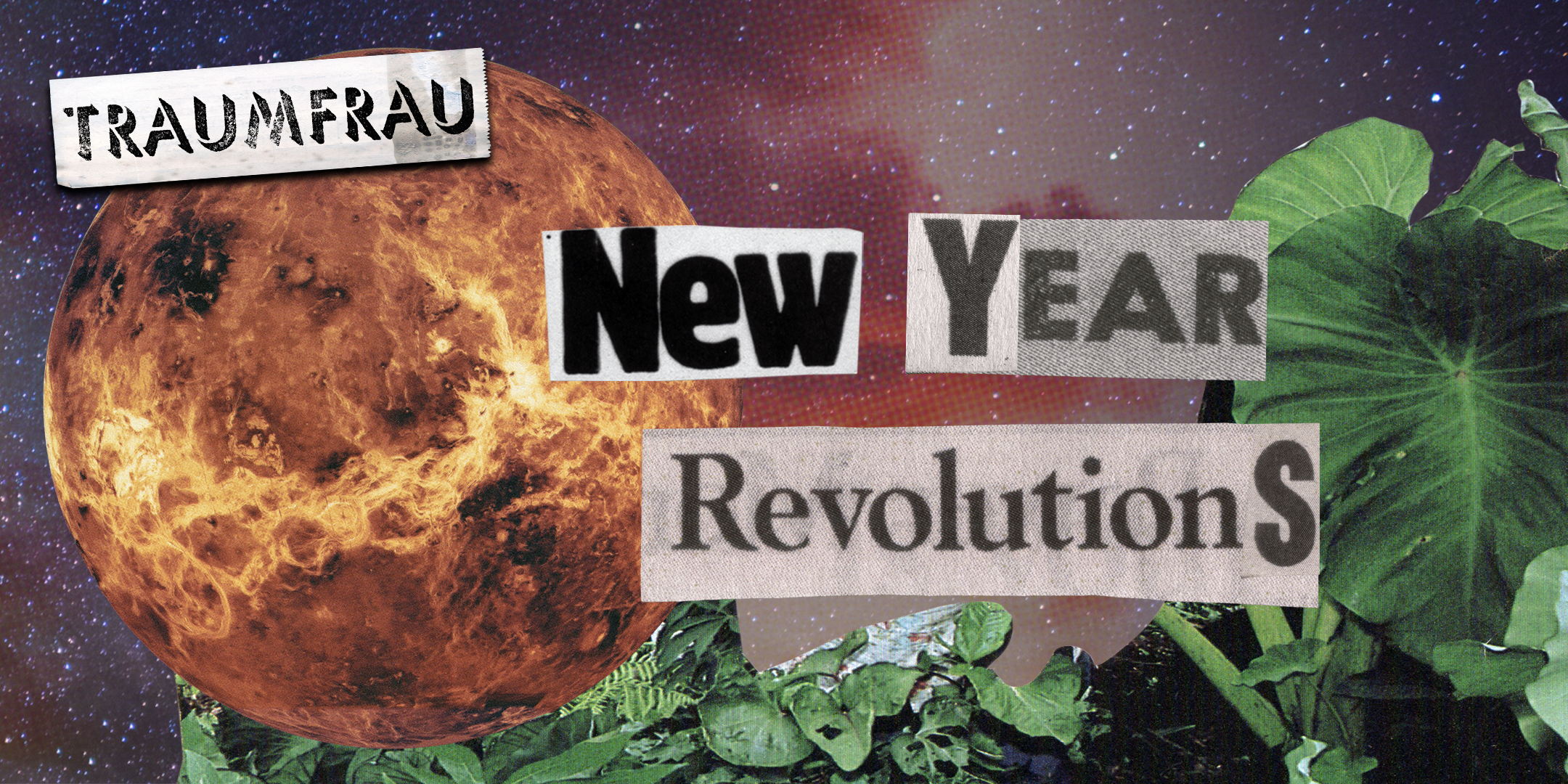 Join Traumfrau as we dance our way into 2023!
Forget about resolutions, and join us on the dancefloor as we manifest our vision of expansion and growth!
This is not a party, it's a collective rebirth!
★ Three different rooms with DJs, art, and performance
★ Eight DJs
★ Six hours of unapologetic queer joy
★ One big queer party to start the year as you intend to carry on
These numbers might not win you the lottery, but they'll win you a night packed with queer joy and transformation. And we totally need that.
✪ Room One ✪
This is where all things disco and live acts happens…
The Disco Room
Affy Go Bang – (House of Go Bang, Calabash) disco diva Affy Wajid, legendary DJ and producer, is a purveyor of fine happenings and peddler of exquisitely sophisticated disco!
Wildblood and Queenie – Brighton's queerest disco dears deliver exactly what it says on their glittering tin. All things disco and divine with an eye on their queer house music heritage and the love of a bloody good dance. Never guilty treasures, always blissful baselines and hands in the air anthems guaranteed. Just how we like it.
Plus live acts to be announced!
✪ Room Two ✪
It's an electronic music rave….
Brighton BBG Takeover!
Step into Brighton BBG Takeover, as brighton-based collective of non-binary, trans, women, queer and gender non-conforming DJs take us on a bassy and breaksy electronic music journey.
Behind the decks:
Punti – Punti is a multi-genre vinyl dj with an emphasis on breaks, bass and funky beats.
Melly – Hailing from Birmingham, Melly is a DJ and budding producer who loves to blend both genres and eras in her high energy sets. From Jersey Club to Funky House, nothing is off the table – or decks! 
B4B – B4B's (aka bangers for breakfast) sets are brought together by a deep love for anything that bangs. Expect uk garage, bass, breaks, and bootlegs of tunes by all of your favourite huns.
Madame Longree – Neither the plastic horse nor piano teacher of their namesake, Producer and DJ Madame Longrèe offers a taste in music that might be described as "130+?", followed by a bit of a shrug. Resident of BBG, La Collectif and Vandelay Radio, they can be found on the airwaves every month, broadcasting some of the most exciting non-binary and queer artists in the heavier music space. 
Mafu – Fierce and feisty, but with a healthy dose of silliness, Mafu's sets will have you dancing without inhibitions to music your more boring work colleagues and acquaintances wouldn't like very much. Expect breaks, familiar tunes and transcendental techno.
✪ Room Three ✪
This is where things get interesting, and weird, and soft, and beautiful…
Queertopian Future
Enter and immerse your senses in the nurturing cocoon of queertopian future. A space to rest, contemplate, and create. A place to make some art that will speak to your future self and inspire your fellow queers…
Built with neurodiversity in mind this room is both a magical and soft experience, an art making workshop, and also a place for you to just rest!
As always we start EARLY – doors open at 9pm – so you can spend the whole evening with us!
And finish late! Ironworks is later and bigger this year, with a whole extra room!
TICKETS will sell fast!
Event Info:
– This event is 18+.
– Doors open at 9:00, last entry at Midnight!
– Tickets are non refundable – however if the event sells out you you will be able to return your ticket to someone on the waiting list
Accessibility:
– Ironworks Studios is a multipurpose space across three areas with wheelchair entry. The studio is flat and the flooring is a mixture between polished concreate and laminate wood.
– Wheelchair accessible toilets are available at the Studio.
– A Wheelchair viewing position is included in the venue's seating plans. This particular event is not seated.
– The Studio and theatre space is assistance dog friendly.
– There will be a room designed with neurodiversity in mind. With soft seating, lower lighting, and lower sounds volumes.
– Special Effects & Lighting: smoke machines, strobe lights, and other special effects may be in use at the studio. Please contact us for more information if you may be affected by this.
– If you require a PA/Carer please conact us directly for a free ticket at traumfraubrighton@gmail.com. Please conact us at least 24 hours before the event.
– You can find more information about the venue at this link: https://www.ironworks-studios.co.uk/accessibility
– For further information you can contact the venue's access team at: info@ironworks-studios.co.uk
Covid Safety:
Please, please, please, do not come if you are feeling unwell.
We encourage all party goers to test, but appreciate tests are not as widely available. If you would like to test at the party, we will have some tests available on the door.