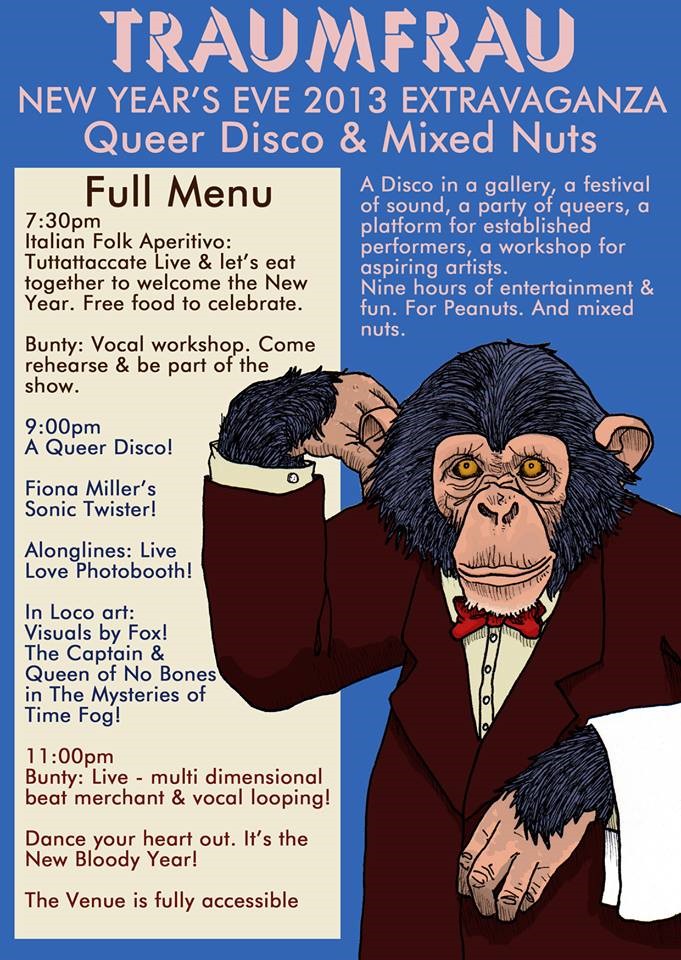 TRAUMFRAU NEW YEAR'S EVE EXTRAVAGANZA
Queer Disco & Mixed Nuts
We are spending New Year's Eve in the most beautiful venue in town.
Nine hours of dancing, live entertainment and art. For peanuts. And mixed nuts.
7:30pm
Italian Folk Aperitivo – eat with the traumfrau family to welcome the new year – free Italian food and live folk music!
Meanwhile:
BUNTY: free vocal improv workshop – join in and be part of the show later!
9:00pm – 4:30am
A Queer Dancefloor – that's when the serious fun begins
DANCE
DANCE
DANCE
Mixed Nuts:
Fiona Miller: Sonic Twister
Alonglines: Love Life Photobooth
Fox: Visuals
The Captain & Queen of no Bones: The Mysteries of Time Fog
11:00pm
LIVE
Bunty – multi-dimensional beat merchant and vocal looping pioneer…
The venue is fully accessible.
Tickets: £7/£9
Advance tickets are now available at this link, we are expecting a sell out. Get yours quick. Don't end up in a crowded pub for the same price 😉
www.wegottickets.com