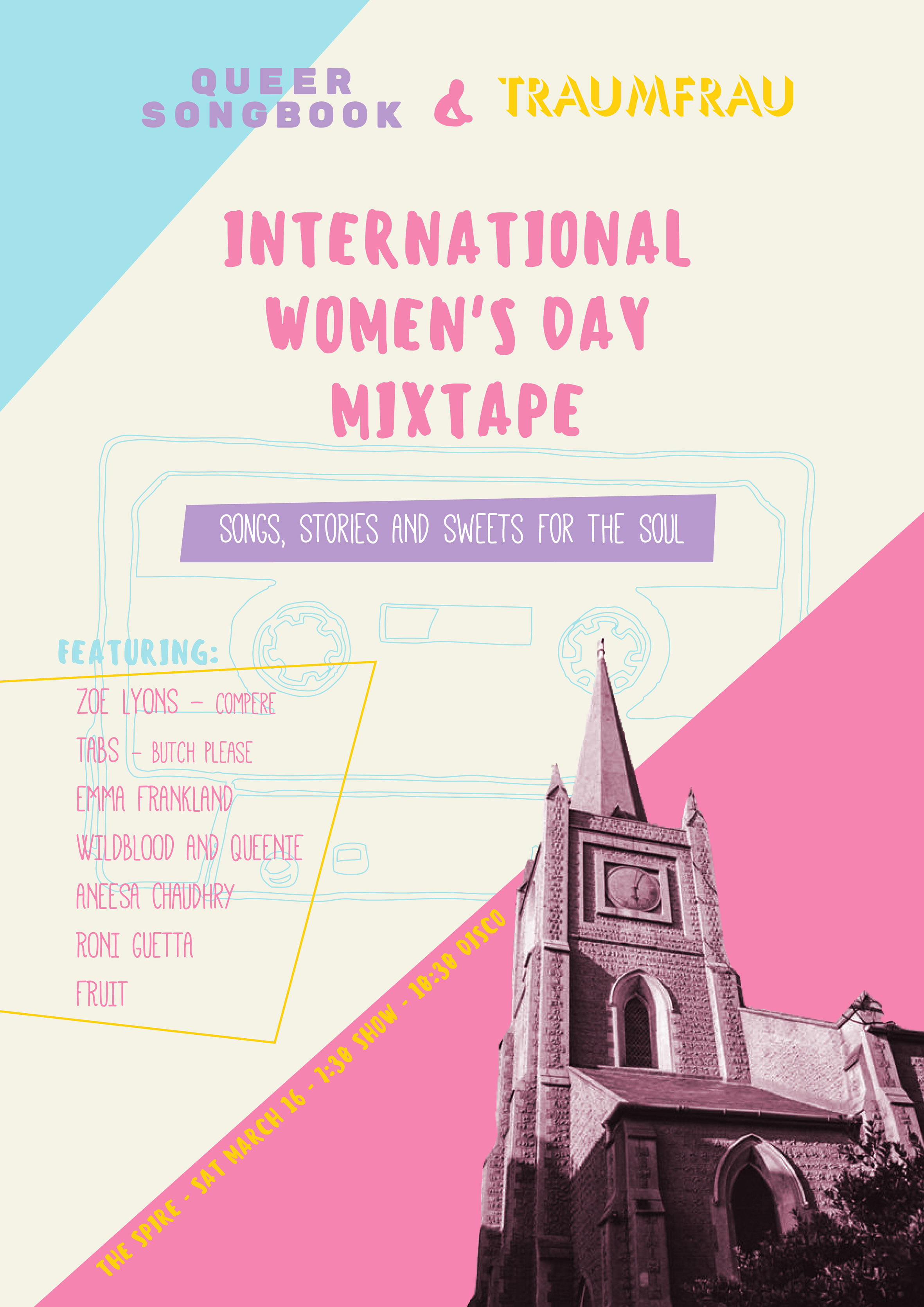 THE QUEER SONGBOOK and TRAUMFRAU PRESENT:
INTERNATIONAL WOMEN'S DAY MIXTAPE
Party-makers Traumfrau joins forces with The Queer Songbook for a truly original live creative party celebrating the queer women of Brighton.
For International Women's Day 2019 we're bringing the Queer Songbook to Brighton! We've invited six inspirational women from the city to perform their queerest and dearest song live on stage!
Traumfrau has been celebrating International Women's Day in its inimitable style – iconic, radical and fun – for the past 6 years, bringing on stage the fiercest of Brighton's female talent. This year, joining forces with The Queer Songbook, the party embraces grand cabaret! Prepare for goosebumps, tears, and laughter! The gig will be followed by the usual unusual Traumfrau extravaganza with DJs and more live acts!
Our guests for this IWD edition are:
Tabs (Butch, Please!): London based singer-songwriter, composer and producer, and founder of London lesbian club night Butch, Please! Tabs writes and produces under the stage name Detour City (Virgin, Digital Soundboy, Polydor/Universal). If you know Tabs you'll run at this chance to see her on stage! We are fangirling hard already…
Zoe Lyons: Bent Double's star, Brighton's best and most beloved comedian, Zoe has been hella busy being our favourite comic on national tv too (Mock The Week, Live At The Apollo, Celebrity MasterChef, Room 101, Dara O'Briain's Go 8-Bit and counting). Are we delighted to have her as a compere extraordinaire for the night? HELL YES WE ARE!
Aneesa Chaudhry: Aneesa grew up in a creative Asian household and went on to train as a Barrister. Her passion for singing became impossible to ignore and she now sings at Jazz and world music festivals around the world as one of the finest singers on the music scene! Aneesa sings with her 20 piece big band, and with the acclaimed Eastern Flavours Band and all female band BLISS ART (Slovenian + Asian). An honour to have her on our stage!
Kate Wildblood and Queen Josephine: Brighton's most regal DJ duo! With over 25 years as a disco, DJing and you know what partnership, Wildblood and Queenie know how to make each other and, most importantly, the airwaves and dancefloor wiggle. What disco classic is this dancefloor duo going to sing for us?
Emma Frankland: Emma is an award winning performance and theatre artist working in the UK and internationally. Her work often focusses on honesty, action & a playfully destructive DIY aesthetic… We can't wait to hear her song and story on stage!
Fruit: Fruit has been sliding through the drag and cabaret scene like an over-ripe mango and has been spotted sploshing all over the RVT stage. Fruit loves to find ingenious ways to deliver (un)wholesome, raw and juicy ridiculousness so if you're lucky enough to sit in the splash zone, expect at least 1 of your 5 five a day.
Roni Guetta: occasional singer and a full-time event producer, art lover, and community organiser in Brighton, Roni Guetta steps out from behind the Traumfrau curtain to tell a tale – well, sing it – of music, girls, and mixtapes…
🖤 What is the Queer Songbook? 🖤 The Queer Songbook is a collaborative mixtape of songs reflecting the queer experience, as chosen by our guest singers. In a stunning line up, each song will be performed live, backed by the incredible Queer Songbook Band, a live ensemble of queer musicians. Far ahead of the event six guests have been invited to choose a song meaningful for them, for which creative director Craig has then worked with the band to arrange. On the night itself the guest introduces their song, telling us the story of its personal meaning for their queer narrative.
🖤 Celebrating queer talent 🖤 The Queer Songbook explores and celebrates queer voices in songs from across the ages. The guests are presenting their dearest, queerest song – the song that spoke their truth, strummed their pain, or lit a defiant flame in their youth – engaging audiences in a musical 'Show and Tell' of feelings and passion.
🖤 A collective experience 🖤 This event, premiered at the RVT last year, was show of the year for those lucky enough to be there. This is not a simple music gig or a talent show for great voices, it's a collective experience of both listening and sharing, with music being an intimate reminder of our shared humanity. The guests are professional, amateur, as well as first time singers, their performance is held together by the skills of professional musicians.
♡ On this occasion we are also thrilled to be hosting the Lesbian Lives Conference 2019 afterparty!
TICKETS:
£8 – Early birds // £10 – Full Price // £8 – Concession // £12 – On the door // £0 Chaperones // £0 Pay It Forward