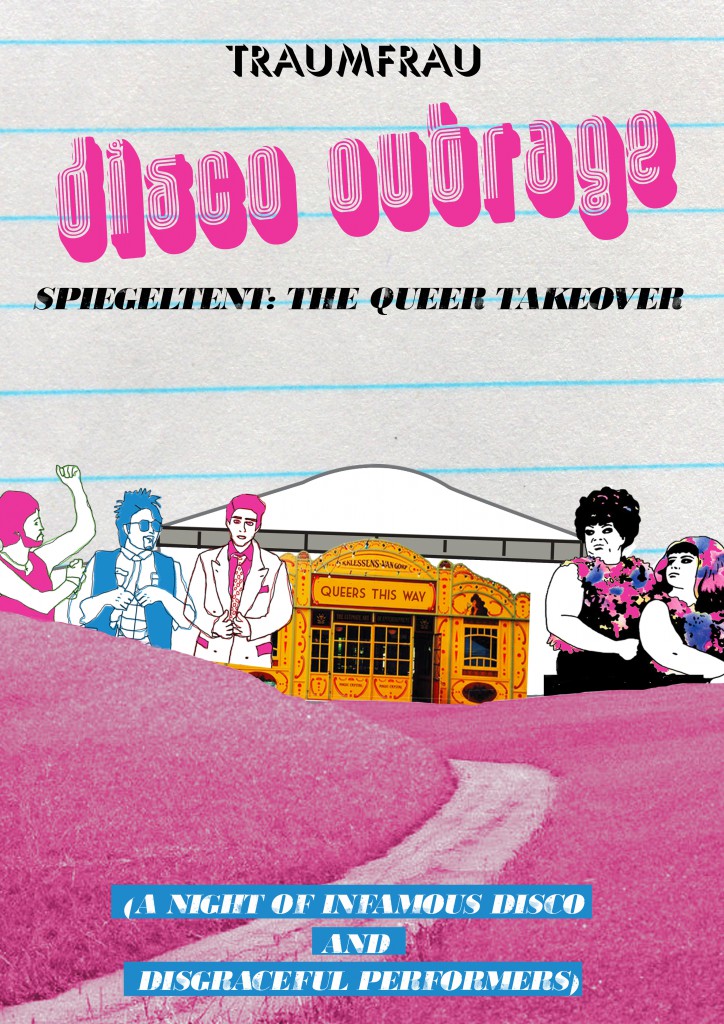 DISCO OUTRAGE – Spiegeltent: the queer takeover
In the incredible Spiegeltent – for one night only – the queers are taking over. Local deviants, Traumfrau, present a night of sordid performance and outrageous disco.
Part disco and part show. Enter a tumble dryer of great music and bad taste.
Behind the decks – all the way from East London Unskinny Bop:
25% :: good pop and r'n'b
25% :: riot grrrl, punk, indie
25% :: 50s, 60s, 70s, 80s
25% :: camp
Measurements are approximate. Dancing is guaranteed.
On stage – a collection of local homegrown freaks:
* Lydia L'Scabies Mills – Brighton based idiot; Queen Flea of the scene, and Ambassador of bad decision making
* Daniel Shepherd-Hills – covered in egg and shame
* King of the Fringe – the winner of Brighton's own Drag King competition will be perofming on stage – to sexually confuse us all
Plus:
Trims for the Fringe: Fringe & beard trims, side shaves & undercuts! Pop-up hairdressing and live art by salon and gallery Brush.
Tickets for this event are LIMITED to venue capacity – last year the event sold out in the first week, so grab your ticket here: https://www.brightonfringe.org/box-office/shows/view/traumfrau-presents-disco-outrage-spiegeltent-queer-takeover-night-infamous