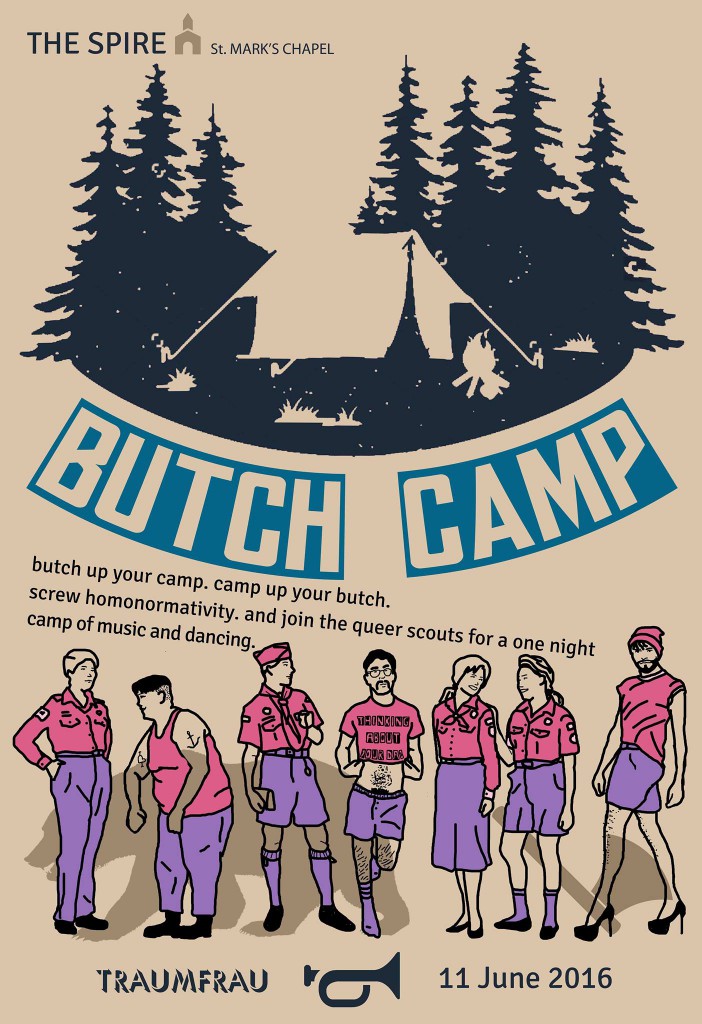 Welcome to Camp Butch!
Butch up your camp. Camp up your butch. Screw homonormativity. And join a one night outrageous PARTY to DANCE your queer scout out!
With music from DJs:
* Sina Sparroww – (DEBBIE, HOMO SUPERIOR – London)
* Alex Spinks – (TRAUMFRAU, HOGP – Brighton)
And live shows by queerqueens:
* Alfie Ordinary – Drag Prince Boy extraordinaire – #notjustfabulous
* Victoria Sin – Female Drag Queen – #queerasfuck
It's the gender bending, homo friendly, queer encouraging, bi celebrating, and unbranding summer camp you have never been able to attend. It's your revenge against the boys/girls uniforms, and a fuck you to the brownies and the cubs.
A night to experiment with your inner lipstick butch, your flamboyant masc, your stud femme, your girly woodsmen, and your misc 4 misc.
Make up your own uniform, and join the ranks of Camp Butch!
Dresscode: pink scouts, girly woodsmen, lipstick butch, shorts and tees, badges and neckerchiefs, emblems and flags.
Where: In a CHURCH! Yes. Indeed.
When: Saturday – June 11 – 9.30pm till 3am
Tickets: grab one online here: http://butchcamp.brownpapertickets.com/