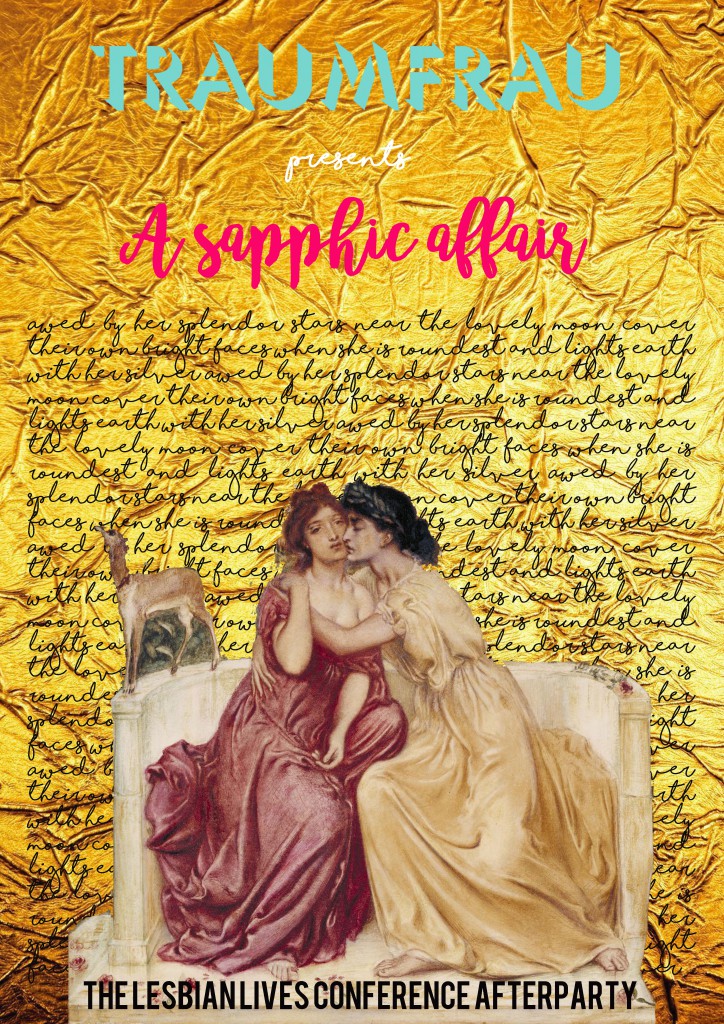 Traumfrau presents: A Sapphic Affair
Traumfrau – Brighton's queer dancefloor for the unusual crowd – joins the Lesbian Lives Conference for a party to remember!
Expect a lineup of fierce feminist and inspiring performers and DJs! To dance your socks off and blow your minds off.
And of course hordes of dancing dykes, international lesbians, party queers, and their friends from Brighton and far beyond!
Music from:
* Tesla Girls DJs – Brighton based DJ duo, rampaging through decades and genres like a promiscuous jukebox. From riot girrrrl to party classics, obscure gems and inbetweener nuggets.
* Mrs Norman Knows: Bedroom Electropop (unashamedly playing all your guilty pleasures)
Performances from:
* Fancy Chance – Fancys work incorporates burlesque, drag, circus, and live art. "Politically charged social critique with powerful feminist undertones.Exeunt
* Kheski Kobler – New Queerlsque Klown – a recent graduate from the one and only Rubyyy Jones's Queerlesque course and a new kid on the cabaret block!
And more TBA
★PLEASE NOTE★
The conference is attended by a large number of people who are travelling to Brighton from places far and beyond, and are thus very likely to get their ticket in advance. If you wish to attend, make sure you don't leave it to the last day, as the event might sell out and tickets on the door might not be available.
Advance tickets HERE
* Please note that Traumfrau is an inclusive space, there will be zero tolerance of any form of transphobia, biphobia, racism, and othering in any form. The event is open to everyone in the queer family, and to friends and allies. We respect people's right to identify as feels most comfortable and we are committed to making a space that is a welcoming and positive. If you have any concerns, worries, or questions, or if you wish to discuss anything with us, we are always available at info@traumfrau.co.uk
** Important notice: if you are in doubt about coming because of being uncomfortable with presenting your ID, having a dead-name ID, or temporarily not having one, please get in touch and we can make sure you don't get IDed on the door.